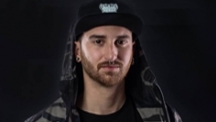 Sergio Rodriguez is an authentic Hardcore enthusiast from Madrid, who started listening to Hardcore at the young age of 13.

In 2014 he went to live and work in the Netherlands and instantly became infected by the hard dance scene of this country.

It was in his time abroad that he decided to start realising his dream of becoming one of the best dj's/producers in the scene.

In order to do so he returned to Spain and began with following producing classes and starting to play at free parties to furter develop his talent as a DJ. It was a long and hard road to find his sound but finally he decided it was time to start his Uptempo project called YunKe.

His style within the Uptempo scene is marked by the introduction of different bass music elements such as Drum & Bass, Neurofunk and Dubstep, but always with one condition... it needs to produce the hardest kicks from 200 up to 250 BPM.

Not long after finding his sound Yunke got in touch with DRS and quickly started releasing his tracks on the label Triple Six Records.

Now this man is ready to break down the stage and show the world what he is capable of.