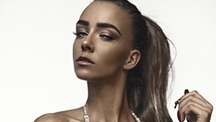 Dutch Dj Estasia started playing when she was only 13 years old. She played at a few clubs and since 2016 at some bigger events where she rocked the crowd with her uptempo hardcore music set and energetic performance.

When Beau (her real name) played a gig at hardcore radio in august 2016 she got more viewers/listeners than any other artist who played live at the studio. More than 220.000 unique views, reaching over 800.000 people and getting almost 10.000 likes on her live set was one of the reasons why she got signed at Rige Bookings.

Estasia is the youngest female uptempo hardcore deejay known to the hardcore scene. Her first album 'My turn' was released in October 2018! Her second album 'No Brakes" was released in October 2019.