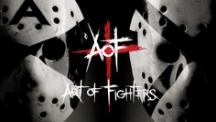 Art of Fighters started out in Brescia (Italy) back in 1997, from the idea of 3 guys: Cristian, Matteo and Luca.

Was the 2000 when the first record was released, The beat can't change. After one year they scored again with their second,Artwork, their first hit track.
Those two vinyls let them start their career, playing around Europe and pushing their sound.

In the end of 2002 the first big change: they quit using FastTracker in favor of professional equipment:
few months after that, Earthquake was released. It was immediatly a success; the record was played in every party and by all the big djs. Nowadays (after 6 years) Earthquake is still played at parties, causing again some major mayhem.
Art of Fighters career continued to grow up, letting them play in all the major parties over Europe like (to name few):
Masters of Hardcore (NL), Hardcore Nation (IT), DefQon 1 (NL), Thunderdome (NL), InQontrol (NL),
Mayhem (Australia), Domination (Australia), Black Light (Canada), Fantasia (Scotland),
Hardcore4Life (NL), Raving Nightmare (NL), United Hardcore Forces (IT), Hardcore Gladiators (DE),
Street Parade (Swiss), Q-Base (DE), SummerRave (Spain), Dominator (NL), Death Experience (Austria), Goliath (CH), Energy (CH).

Was the end of 2007 when they released their first Cd album. A double cd with 28 tracks, which was sold out in few weeks.
Together with the album release the sad decision of Matteo to quit the team. Even without him the fame of Art of Fighters continued to grow, till the gold moment of now.
New projects are ready for the late 2008, including some unexpected collaborations and new tracks. Stay tuned!