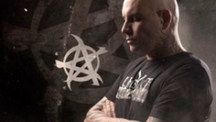 Jappo started djing in 1994 after experiencing the hardcore sound at club Number One in Brescia.
On 1995 teams up with italian Hardcore legend Claudio Lancinhouse and start working in CL home studio, and after less than a year the first release was out:

"Lenny dee and the Hardcore Warriors" on ISL records. It was a collaboration between them and the godfather Lenny Dee.

The second records was the smashing hit "Real Motherfuckers EP" including the probably most famous track of the duo EXLXAXL.

After many releases on Industrial Strength, other releases followed on labels such as D-Boy and Mokum.

In 1996 started djing as a resident at Number One, the club where everything started, along the side of his partner/hero Claudio Lancinhouse till 2000.

UneXist was born very early in the days (around 1997) as solo project of Jappo with the sound leaning towards brutality but it didn't fully formed until 1999 when the 1st UneXist LP "Disintegrator rising" on ISR was released.

From that day another big challenge started for Jappo.

He wanted to start from scratch and try to achieve the same goal as with J&CL but this time as a solo.
On 2001 he teamed up with his long time friend Lenny dee and found ISE.

they continued for 5 releases but they had to stop shortly after due the real bad time for their dark and rough sound in the hardcore scene.

Stubborn Italian never wanted to compromise his view of whats hardcore supposed to sound therefore he decided to take a break and move to NYC near his crazy mentor and away from the scene he didn't recognize anymore.

In NYC he just embraced his love for turntablism even more and expanded his knowledge of Heavy Metal and old school Hip Hop, which was the very spark who set his fire up for Hardcore music once again.

He literally closed himself in Lenny's studio for 6 months, working and smoking like a savage and he came up with the unique UneXist sound!

Before coming back to Europe he had few releases ready to be drop: "Fistortion", "Attack", "Liberate" just to mention a few.

By the time those records hit the shops UneXist started getting booked in Holland almost every week and he played at almost every big Hardcore event you can mention.

On 2005 he released his 1st album Contagion on his new label DT6 Inc.

UneXist way of thinking about making music: "I started making music because I wanted to make something that other people wasn't doing and felt it was missing. I make music for myself first, than the fact that people digs it is a huge collateral..."