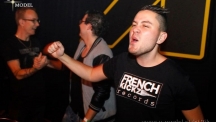 At a young age Nielos discovered lots of software to create his own samples and tracks. He used to make tracks with vocals from anything you could name. At first it was all for fun, nothing serious.

In 2012 it became more serious. At this time he picked up the part of djing to.
In this same year he dropped his first EP!

After that he found his drive in the Frenchcore scene, spinning at big partys like: Hellbound, Footworxx and lots of big partys abroad! Also releasing lots of bangers on different labels!

In 2016 he and a couple of other producers/dj's set up the label Frenchkickz Records where he had several releases and now is the only owner left.

To describe his music, it's melodic and sometimes a bit
playful and most important it's hard!