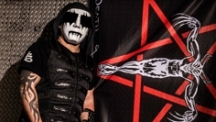 Terror & Speedcore music with Thrash Metal, Death Metal, Black Metal and Dark influences.

Bio:
In 2004 I finally started serious with some producing and gave myself the artist name: Prince ov Darkness. In 2005 I performed at my first event in my own town The Hague, it was a small party. After that I performed in Germany, Switzerland and England. I've listened to Speedcore and Terror music since the beginning.

I like this kind of music because there are a lot of tracks influenced by Metal. Metal is my style, you can hear it in my music. Originally I came from the Metal scene and I slowly began to be a part of the Terror/Speedcore scene.