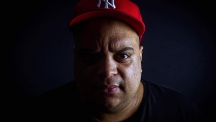 Andries Zijlstra, better known as DJ Freeze, Is born and raised in Weert, a city in the south east of Netherlands. DJ Freeze started listening to the harder styles of music because of his brother Anthony Zijlstra. This all started around 1992, when they listened together to BFBS-radio. In this same period Anthony started buying the wellknown Thunderdome CDs and since then Freeze was sold to hardcore.

In 1996 Freeze started to practise his DJing a lot. With a lot of practising with records that he bought together with his best friend, Dave Maas, he improved steady. The gear they used was located at Dave's appartment, in the year 2000 DJ Freeze bought his own turntabels and mixinggear. From that moment Freeze DJ carreer could really start off.

In 2000 Freeze formed an act with DJ Dysone. They use dto play on regular base on "Zig Zag" together with DJ Big El. Around the same period Freeze created an other DJ-Team that was called "Proximity". Members of that team were Freeze, Adrenialin and Dysone. The Proximity team spinned on several partys but in 2003 they eventually broke up and went their own ways. The only thing that remained of the Proximity is the BSHVN Underground Movement. Freeze has been a resident DJ there from 2003 to 2006.

In 2005 Andries participated to a DJ contest in Valkenswaard. He won the contest and got rewarded with a trip to Nature One. Later this year Freeze became resident on several clubs and events like "Hoegaardan Events"

But also for a view years in famous "Carte Blanche". He has been playing for 4 years non stop resident together with DJ Quickswitch & DJ R2B. Every Saturday in area 2 "Maximizer". Means allot of his career !

DJ Freeze Has Being booked this much it's just a matter of time for Andries to start spinning on big events. Mindcontroller ,7th Sundays festival, Free Festival,Hard Nature,Harmony Of Hardcore, Last World Festival, Kingsday Festival , Decade X Events, Together We Are Hardcore are a great introduction of DJ Freeze.

Freeze will show that he can play more then hardcore. Every month he will spin a set in his own style, this could be Freestyle, early hardcore. It doesn't matter, he plays anything. Real allround artist

2014 He has also 2 collab releases on his name and his great bootlegs!

DJ Freeze has start in 2013 freestyle series. With a name as Pump That Pussy. Its been major populair in southside of holland. Also his show at toxic sickness radio "cold as hardcore show" over the world!
In the future wil be some hardcore & freestyle productions from this ice cold man!