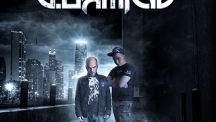 Created in 2010 , D-Ohmicyd is a duo of french dj's and producers (Steven and Jean Christophe).
Their inspirations are many and varied , from "mainstream hardcore " to Terror , going to "industrial hardcore" and "frenchcore". influenced by the free party and hardcore party that they traveled being young.
in 2011 they founded "Exode Records" & Pump Corn , which include a collective djs with P87 , Anticeptik , Wars Industry , neiko , and many more.
they released "Mechanick Blaster01" who will be their first ep on "Exode Records". they work with many artists , in particular "Imperium Bass (Megarave records)" or "Wars Industry" with which they realized many ep on Exode Records, neophyte records, darkside unleashed, aurora mortem records, toxic sickness digital.

winner remix contest neophyte records "coming at you strong"