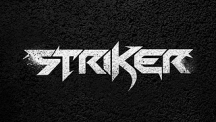 Born in the Paris region it was in 2002 that he made his first parties in Rave party and Free party where he discovers the sharing and exchange around the electronic culture.

Then comes the organization of legal as illegal breasts several sound systems techno parties.



Soon he became interested in electronic music that became a real passion and began composing on computer assisted controllers and machines.

He plays lives and composes tracks in different style: Hardtechno / Hardtek / Tribe / Hardcore / Frenchcore.

The dates and opportunities to play live also makes good in Free legal party that evening, notament to Paris, Lille, Nante and southern France.

It was in 2007 that the first track out on vinyl (with a different nickname) on différants labels (Astrofonik, record gear ...).



After a long exposure of musical creations is finally in 2014 he returned to the French label Ex-Records under the new blaze Striker and with ambitions sound much more "hard".

Program sounds "trash" & "dark" in Hardcore, Hardcore and Industrial Terror styles.