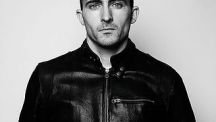 Born in 1981 and originally from the north Paris suburb Caulay Christophe has always been a passion for music in general and especially for electronic music.
Since the beginning of the Dance of the 90s through the Acidcore, Techno, D & B or even the metal.
His passion for original sounds and uncommon led him to discover the Hardcore in 1994 which remain his preferred style until today.

In 2002 under the pseudonym "Onix" he joined the Association northerner Dark Generation X (DGX), which later became a unique musical group that he or perform live act in numerous evenings of northern France and Belgium, but also in Switzerland.
He signed his first vinyl release in 2006 with the title (Good Night America - EGO-001)
the Ego Records label.
Until today he continues to produce hardcore gabber under this pseudo notably in 2013 with a remix of Darkcontroller on the Dutch label DNA (DN055) or with his latest EP (Onix - no Social Deviance) still on Ego Records.


Meanwhile he founded the Imperium Bass project in 1999 with a friend always in style productions mainstream hardcore gabber more dynamic.
After a long period of silence they will produce their first EP (Mad World) on their own label (Paris Hardcore Mafia) created in May 2010.

Noticed by a first collaboration with Chrono exit on Megarave Rec in 2012 (Life is a Bitch - MRV160H) and several other productions PHM.
They evolve on stage by working with Aphira If, TSX, Imperia, D-Ohmicyd. But in particular producing a remix of the title Coprs Rotterdam Terror Horror.
They produce this live and in several scenes as a mix (Paris, Munich, Cologne, Amsterdam, Rotterdam, ext ..) even in 2013 or they will choose what to work each separate projects.

Always attracted by new sonorities Christophe begins "Soulshaver" project in 2004 to work more industrial production.
He is a freedom more flexible production than in the mainstream.
Thus being able to work more personal style loop Hard Techno, Break D & B and dark atmosphere all on a kick Hardcore base.

As technical production (Gang Bang Parody) has other more minimalist style and his world that transcribed more freely in these Soulshaver production without losing the energy of the main Hardcore.
The first generation (Scratch & Crunch) in collaboration with Mental Pain released on special various artist (PHM-SP01) on the occasion of an anniversary of the label.

In 2011son style that stands out more and more about his co-production with X-Core (Strange Buisness, Faith Of The Future - PHM-006) and it is finally in June 2012 that he produce his first solo ep (Let Go Bass & Kick - PHM-009) still on PHM Rec.

It's latest productions signed on Artrum Artifex Alpha (Lose Control - AAA-006) a sub label Noisj.nl opens new creative horizons for 2014.
Always Hardcore in an original style combining all that is musical influence.