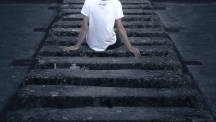 Italian Hardcore Dj/Producer, Giulio Sterbini a.k.a. Chem D starts deejaying in 2002 his home city: Rome.
In 2004 he joins Hardcoreultras. From that moment on they played together in several raves and clubs around center Italy, promoting passion for Tekno, Hardcore and the harder styles of dance music. In the meantime he begins producing his own tracks.
In 2009 he moves to The Netherlands and starts releasing as Chem D his first tracks on Avanti Records followed by other labels including Social Teknology, N.E. Tunes, Dead Kitty and more.
He played at several parties and festivals around Europe including: Defqon.1 2014, P.O.R.N.-10 Years Of Terror (NL), E-Mission (IT), Footworxx 10 Years Anniversary (BE), The End Of The World Festival (ES), Together We Are Hardcore Festival (NL), A Nightmare In Italy (IT), Nocturnal Festival (NL), Frenchcore S'il Vous Plait (NL) Slaves To The Rave (IT), ) Concept Zero (IT), Astrofonik 10 Years Tour (ES) and many more… He shared the stage with several djs such as: The Sickest Squad, Akira, Dj Producer and many others.
In 2012 he takes part of the Frenchcore collective The Beat Syndikate. Chem D is the owner of the hardcore label Circuit Core on which he releases tracks from artists such as: Skoza, Mutante, Bit Reactors and many others.
In 2013 he graduates as MA in Sound Design and works as an independent music composer and sound designer.
His dj sets vary from: Industrial, Hardcore, Frenchcore, Breakcore and Terror delivering a selection of the hardest styles in dance music.
His live set is performed with several controllers and consists in a Hardcore/Frenchcore set ready to blast dancefloors around the world.