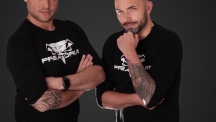 Born in the 70's, and raised in the 80's and 90's in the Netherlands, Veendam. Patrick Groen aka Preatorian was early at the first hardcore party in 1995 (Ravers Religion). At a young age he was addicted to horror movies and reading Steven King's books. He made his first dark hardcore tunes on fastracker and eventually chose to join the army in 1997. 15 years after his Air Assault (red berets) period it started to itch again to make music. This time he opted for progressive house / Minimal house and scored his first record deal with RaveBoy Records (USA) in 2013. He was also in the top 25 RaveRadio Los Angeles for 3 months.

In 2017 Preatorian chose to obtain his HBO HRM and in 2020 he finished his education. This was the starting signal for him to immediately pick up his music again around the summer of 2020 in Corona time. This tasted like more and he decided to devote himself fully to hardcore music. Given his love for Drum & Bass and Minimal House, he wants to create a different sound. A cross-breed between different genres, but with a horror vibe. January 2021 Preatorian founded his 2nd record label: Dark Entites Recordz to keep full focus on the harder styles of music and maintain his musical freedom.

Preatorian is now well known as the alchemist and creator of dark crossbreed hardcoremusic. His style is 100% RAW, with natural influences from dubstep, hardcore, hardstyle and fuses into his own style. Which you can feel as soon the music plays.