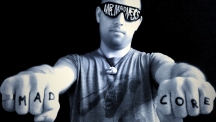 Mr.Madness is the founder of hardcore music in Slovenia. With years of experiences he knows how to make crowd go crazy and doesn´t let them breath for a second. His releases on labels like Industrial Strength, Prspct and many others he stands still in the hardcore scene globaly!

Saso Justin started to write history in 1997, as the first Slovenian hardcore DJ to perform in Austria, Germany, Hungary, and The Netherlands as well as all the major clubs arround Slovenia, he would be known as »The Godfather of Hardcore« in Slovenia and the best Closing act you can have!

2010 brought a growing success for Mr. Madness which included a well received remix for Germany's DJ Sam Punk, released his 1st solo EP »Fuckin MFs'« on Swedish label SEAU, and joined German label Hardvolume Records. This signing delivered the first recognized hardcore vinyl from a Slovenian arist »Break the Silence«. To round out the year Sašo also received the chance to make a remix for Italian hardstyle godfather DJ Vortex and well known DNA Records artists Cemon Victa.

2011 was an even busier time for The Godfather. Mr. Madness was given the opportunity to remix a track by Stocker »Gamemaker« for Germany's Important Corestyle. Soon after he became a resident of Extreme Club in Slovenia and program manager for hardcore events in the legendery underground club Club K4. From here he`s solidfied himself for being the best closing act in all the bigger and harder events in Slovenia and abroad.

In 2012 he released his next solo EP on USA's Hard Kryptic Records which included the music video for »Jump Mfer«. Soon after he saw the collab release with Dano for legendy Industrial Strength Records. As a DJ he was the closing act at the Ground Zero Festival where he was priviledged to make the mix for its official compilation, performed on Thunderdome Radio, 10 years of Hardcore Hooligans and much more!

Set for 2013 he has been tapped to play on some of the biggest events and already finished many projects and remixes with artists like Dano, System 3, Koney, How Hard, Cemon Victa for labels Industrial Strength, Hard Kryptic, GGM, Digital Plague, Red Fever, Dark Matter and few others.

His EP "Deathwish" which was released on Industrial Strength with big support from Lenny Dee, Dano, Stromtrooper, Mario Ranieri, Cemon Victa to name only a few....came just in two days to top position on Juno download with the main tune "Madcore Lesson" which stayed in Top 5 of all best selling Gabba tracks for more than a Month!

Since 2015 he works tight with Industrial Strength records and currently working on his Album together with Lenny Dee, Delta 9, Dep Affect, Matt Green, Tooms, Ambassador21...to name only a few.
He is also the creator and host of Industrial Strength Radio.