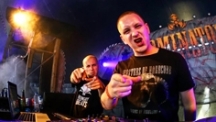 BIO (ENG):

It was year 2009 when the new brand project called Hungry Beats was started, initially focused just on tribecore and frenchcore, but, as the time has passed by, also on styles like hardcore and terror as well. Project was started by two two czech producers, Filip Houdek and Kryštof Babjuk. On 2010 they released their very first EP "Out of bounds" (PNR01) on their own new label Prague Nightmare records and, on the same time, guys were called to cooperate with LXR record (Dave LXR) where their track "Black Labirinth" (Lost & Found 02) was released. In a very short time HB became quite popular across hardcore scene in CZ so in a very short time new episodes (PNR 02, Lost 03) were released, including unforgetable hits like "Head Crusher", "Mad Joy", "Hola Hola" and "Wrong Spiral". As these tracks became more and more popular, global labels such as Astrofonik, Karnage, Noistorm and Noteasytunes called HB to cooperate and released like "I got something for your mind", "Super crap", "No Escape" and so one. On 2011 HB became more and more succesful all around the global scene, especially by theirgigs on Raving nightmare, We are together hardcore, E-mission, Footworxx vs. PRSPCT, Frenchcoresil vous plait, Therapy sessions, Xmassacre, Imagination festival, Koalition, etc... On the beggining of 2012 French producer DJ Tieum offered ot HB releasing their tracks on Altern- hate label, sublabel of Audiogenic records. On 2013 HB released their first full LP "the beggining of hell", more focusedon hardcore than frenchcore. Guys on this record prooved their production skills what made it so succesful. Year 2014 brought collaboration with the cult project Rotterdam terror corps. HB produced hillarious remix of "Time to kill another one" and were invitedfor RTC's anniversary party called "20 years Rotterdam terror corps".
Hungry Beats published their second album entitled "Harder Than you" at the end of the year 2014. This album is pure frenchcore and has received great response from the frenchcore music fans. This year they also got an offer from the Italian label Brutale. This sublabel of the biggest Italian hardcore label Traxtorm records released their track entitled "We Had A Problem" which made it to the top10? in Hardtunes! 2015: At the moment, Filip & Krystof are working hard on many new things and are hungrier and hungrier.
Among other things, HB are going to perform, as the very first CZ project, on the biggest hardcore festival on the entire universe, The Masters Of Hardcore and Dominator Festival at Netherlands!

Get excited! Their beats will eat you!
HUNGRY BEATS!

BIO (CZ):

Píše se rok 2009 a vzniká projekt Hungry Beats, který je zpočátku zaměřen pouze na tribecore a frenchcore, ale postupem času se přidávají i styly hardcore a terror. Zakladateli jsou dva čeští producenti: Filip Houdek & Kryštof Babjuk. V roce 2010 mají HB hotové své první EP ( Out Of Bounds / PNR 01) a rozhodnou se ho vydat na svém vznikajícím labelu Prague Nightmare records. Současně jsou ještě osloveni dalším českým labelem: Lxrecords (Dave_Lxr) a vychází track s názvem Black Labyrint (Lost & Found 02). Vznikají velmi povedené tracky, díky kterým se projekt Hungry Beats dostává do povědomí mnoha fanoušků tohoto žánru. Desky byly natolik úspěšné, že se během pár měsíců dočkaly pokračování (PNR02 & LOST 03) a byli stvořeny nezapomenutelné hity jako: "Head Crusher", "Mad Joy", "Hola Hola" a "Wrong Signal". O projekt se začaly zajímat i známé zahraniční labely: Astrofonik, Karnage, Noistorm, Low Factory, Not Easy Tunes atd. a vycházejí skladby napřiklad jako: "I Got Something For Your Mind", "Super Crap", "No escape" a mnoho dalších. V roce 2011 jsou Hungry Beats známí nejen v Čechách, ale i v zahraničí. Projekt má za sebou odehráno mnoho uspešných akcí, mezi které patří třeba: MASTERS OF HARDCORE, DOMINATOR, HARDSHOCK, RAVING NIGHTMARE, WE ARE TOGETHER HARDCORE, E-MISSION, FOOTWORXXX vs. PRSPCT, FRENCHCORE SIL VOUS PLAIT, THERAPY SESSIONS, X-MASSACRE, IMAGINATON FESTIVAL, KOALITION a jiné. Začatkem roku 2012 dostali Hungry Beats nabídku od francouzského producenta Dj Tieuma vydávat na jeho labelu "Altern-Hate", který spadá pod Audiogenic. V roce 2013 vychází první velké album HB s názvem "The Beginning Of Hell" - žánrově je zaměřeno spíše na hardcore než na frenchcore. Album bylo velice povedené a HB tím dali vědět o svých kvalitách a velkém produkčním rozsahu. Rok 2014 přinesl spolupráci s kultovním projektem Rotterdam Terror Corps, na jejichž skladbu "Time to Kill Another One" udělali HB povedený remix a byli pozváni na výroční party: 20 YEARS ROTTERDAM TERROR CORPS.
Koncem roku 2014 vydávají HB své druhe album s názvem: "Harder Than You" které je protentokrat pure frenchcore a sklidilo velké ohlasy z řad fanoušků frenchcore musick! V tomto roce také přišla nabídka od italskeho labelu Brutale, což je sublabel nejvetšího italskeho hardcore labelu Traxtorm records, kde jim vyšel track s nazvem: "We Had A Problem" s kterým se dostali na nejviší příčky Hardtunes!
2015: Momentálě Filip & Krystof pracují na spoustě nových věcí a jsou stale hladovjejší a hladovjejší..

Těště se! Jejich beaty vás sežerou!
HUNGRY BEATS!