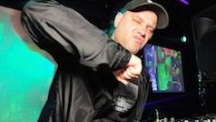 DJ Mutante was born in Canada's cold Great North. His interest in music was peaked at a very young age, and after having played in many bands (drums, bass, guitar, synthesizers…) throughout his youth, he started spinning records in the mid 90's. A little while later, he started experimenting with electronic gear, leading to his rather primitive first tracks.

In 1999, he came to form a digital Hardcore band: Khan Gourou. Their two first tracks,"La Mort au Choix" et "Le Renard", appeared on a tribute by Bûcherons Kébecois to the legendary French band called Berurier Noir. Shortly thereafter, the group self-produced "Il est Venu le Temps des Claques sa Yeule", a parody of "Temps des Cathedrales", of the famed musical comedy "Notre-Dame de Paris". Khan Gourou successfully made it to the top of the local student radio stations at the time. François then started the band Kungfuckers, producing the CD with the most explicite cover in Quebec to date. He participated in numerous events, one of which being the prestigious international music festival of Victoriaville, and featuring the John Zorn, Mike Patton and many other world famous musicians; in which he collaborated with scratch DJ, DJ Pocket, and experimental turntabelist, Martin Tetrault. The combination of the three styles created a clearly unique and an enthusiastically received performance.

Next came DJ Mutante and Normal Bates' fusion of Hip-Hop, Electro, Hardcore, Funk, lo-fi etc... forming the band International Al Congnen, which is still active today and presently in the process of finishing their most recent album.

During the three following years, he recorded and toured Canada and Europe as the bassist for Hardcore/Punk band Dr Placebo, conviced by his friends' testimonies about their fascination for new software technology, he bought his first computer and started to explore these new musical horizons. From 2003 to 2004, he progressively improved his knowledge and his technical mastery of production softwares, like FLStudio for example. This new approach of his own work will finally be materialized by the release of vinyls with Audiogenic, Kryzalide and Le Diable Au Corps after having sent a few demos in France. He produced then a few tracks for Canadian Speedcore Resistance (Dj Plague), GGMRaw (Dj Smurf) and organized a few little tours in Europe.

The years 2007 and 2008 will be marked by a few more productions from Dj Mutante, notably on C.S.R., Kryzalide, Psychik Genocide or Masters of Speedcore. Since 2009, he has been travelling several times all over Europe, and participated to events in numerous countries such as France, Belgium, England, Germany, Switzerland, Holland, Spain, Bulgaria, Poland and Czech Republic. We can quote as quite relevant examples, among others, Montagood festival, Hotter than Hell, Hardcore Extremis, Terrornoize Industry Anniversary. His new productions released on Absurd Audio and Terrornoize Industry are marked by the will to point up diversity and to create a sound with a very personnal signature in the same time. "I'M a Hotshot Robot", his first album released on Psychic Genocide, illustrates this project.