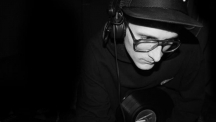 Frontline of the enraged sound, Noizeskill is the one that pushes the
soundtrack of anger. Experimental Hardcore dj/producer from Italy, he
melts the darkest and evilest shades of hardcore and drum & bass.
Soldier of Nekrolog1k Kartel, he is also on other labels such as Negative Audio, Ego1st and Tainted Audio Recordings.