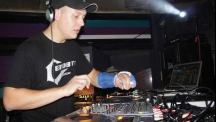 Maarten Prinsen was born in 1989 in Winterswijk (NL).
As a little child he was already interested in making music.
He started playing the keyboard and formed a little band with some friends. Mainstream music wasn't the kind of music he liked though.
But at that age he didn't know about the existence of all the different kinds of music in the world.

He came in touch with house music somewhere around the year 1998. He knew that this was his kind of music, especially the harder styles. After some years he started producing his own hardcore tracks. Because he didn't know any other house producers he had to learn everything on his own. He also bought a DJ set and started collecting vinyls and after a while he got booked on various small rave parties.

After a few years he heard about the label Cenobite Records, which has its unique hardcore sound, with influences of acid, psytrance and breakbeats. He immediately fell in love with this sound and started producing psychedelic hardcore too. After a couple of years he sent a track to Michel Klaassen, owner of the Cenobite label. After a while Michel contacted him to send all of his tracks for a CD he was about to release (Machines In Motion Volume 2). Now he is proudly producing for his favorite label.