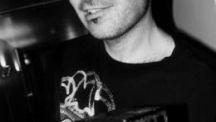 Michel Klaassen,

Born and raised in Amsterdam in 1970 a.k.a. Leviathan started producing in 1985 in a hip-hop crew called D-P "Digital-Power".
Through hip-house Michel became obsessed with what later became hardcore played at illegal parties in warehouses.
Countless nights he spend in his home studio passionately creating his own music.
He released his first record in 1992 in the formation "the TOF band".
Michel invested in new equipment and classic Vintage Synthesizers,
finally resulting in a professional multimedia recording studio that makes the hearts of many producers beat faster.

"I can produce almost any kind of music in my studio my interest for music is also very versatile

He developed a wide variety of styles and worked on many project's with other artists and record label's like ;
Delirium, Omar Santana, Predator, Arjuna, Guitar-Rob,
Danny Firestone ,Chosen few,Techno-Head, Dano, Micado, Crypt, Archatos, Beyonder Holocron ,Brainiac, and many more

In 1993 he started producing tracks under the name "Tellurian" for the Amsterdam label "Mokum Records" and gained international recognition as a music producer.
In 1995 he did several project's for ID&T label's Thunderdome ,"Bad Vibes Records" Brainiac
In 1996 he started a independent label: Cenobite Records

Cenobite is an open platform for mostly dark hard innovating experimental melodic electronic music.
Some call it Trancecore or Cenobite style we like to call it Psycore ( psychadelic hardcore)
The style is dis-scribed as A mix & blend of Hardcore Tekno Acid PsyTrance & Break-beats

Cenobite produced the first hybrid hardcore audio/multimedia cd+
and produced 2 music video clips for the dutch music channel "TMF"
there songs got licensed to many international compilation cd's , dvd's.

Since 1992 Performing all over the world as a DJ & Live-act.