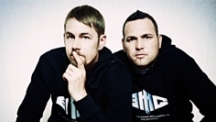 BMG
As hard bass and emotional melodies are BMG's receipt of success, the boys are in business now
for over ten years. Because of their inimitable sound and their unique perfomances, BMG are more
in demand than ever and they are rocking the stages of great events like Nature One, Mayday,
Syndicate, Toxicator, Nightmare, etc., as well as they're playing in various international Nightclubs.
Besides their freaky videos and live performances, the boys are always up for a fotosession and a
great party with their fans.Due to their memorable Performances, BMG have been voted under the
Top 5 Liveacts by magazine "FAZE" & "Partysan" in 2013.
With their new album "Funny Bad World", which was released in 2014, Sascha Ewe and Oliver
Beez from BMG will surely have a great start for their future.