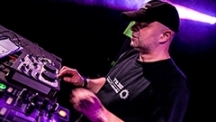 MARTIN DAMM has been releasing records since 1990 under various different guises the most recurrent & most known being "The Speed Freak" and "Biochip C."

He is the man behind more than 50 aliases, the most active and popular ones being Biochip C. and The Speed Freak. He got his start in the German techno scene 22 years ago producing many different kinds of electronical styles such as EBM, Acid, and Breakbeat. Soon, he would recognize and join the Hardcore scene sharpening it up with his fast and unique tunes. Around that time, Martin built up his Hardcore flagship Street Trash Alliance with its amazing and trend-setting sublabels such as Shockwave Recordings and Napalm. Numerous releases later, and as a result of the permanent enhancement of his producing technique, Martin would become a resident member and one of the most important artists of the Industrial Hardcore label Psychik Genocide. Currently, he manages Absurd Audio, Off Bits Records, SubConnexion, and recently he became the co-founder of the J-Core label NiTEFLARE in the beginning of 2010.

Martin would widely be considered as Frenchcore-act due to his past and current works under his main-alias The Speed Freak. Actually, his style is a lot different than what common Frenchcore sounds like. The best suitable term for Martin's producing technique would be Cycore – A symbiosis between massive sampling, the most elaborated beat-hacking, and track-constructions at the highest level. Cycore consists of Industrial Hardcore significantly influenced by a whole lot of modern media such as movies, games, and even other musical genres that are being used as elements.

Based on the huge success and the own preferences of Cycore under The Speed Freak, the output of the side project Biochip C. was reduced to a clear amount of outstanding tunes which wouldn't fit into the ongoing and well-known producing style of Martin. Nonetheless, the side project has evolved greatly as well. Initially brought to life for the Acid and Techno movement in Berlin and Cologne, Biochip C. has gathered a wider range of styles along with a full upgrade to Martin's sound-hacking technique. The actual style of this alias would be generally considered as Hard Techno and Hardcore Acid with an unmistakable touch from the godhand of Mr. Damm.

In fact that Martin has gained a lot of popularity during his career, he has always been modest about his success and kept the connection to the scene closely. Most people didn't even know that Martin has gained two golden records for his remixes of Technohead´s "I wanna be a hippy" and Double Vision´s "Knockin´"which sold more than 250.000 copies each.