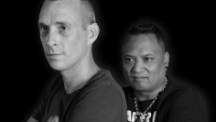 The Partycrushers started in the year 2008 in the hardstyle scene.
Soon they were picked up by Elusive Agency and became residents of Pure Hardstyle events. Soon they got brand awareness in and around The Hague. At that time they could not help but also to go into the studio to makethere own music and came up with their first release "FEAR/YOUR NIGHTMARE" on the label Spider Records from Major Brice and hit the No. 1 on the dance charts in France. Followed by many CD compilations like Magic Belgium, Tuning Beats, Gary D precents D Techno, La Bush Summer and Explosive Car Tuning . Shortly thereafter they signed to the label Bazz Implant a sub label of IMP Recordings many releases are produced on this label. When the music styles begin to changed it was time to think which way they wanted to go it was quiet in the background.

In 2014 came Michael the founder of The Partycrushers in contact with Ferry Salee (DJ Gizmo) and talked aboud a new formation "The Partycrushers" from 2014 are from this time "Michael Tijssen" & "Ferry Salee" to strike back and let the world know again with there new music productions and collaborations with other artists from now you can book The Partycrushers at Gizmania Bookings.
Now in the year 2016, they have produced a lot together at TPC Music Studio & Gizmania Studio.
The guidelines is exclusive for the harder styles: (RAW) Hardstyle.