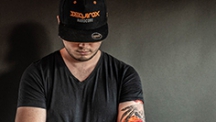 With 16 years Re-Fuzz discovered the Hardcore music for himself. After a lot of other musical projects he decided to start something new and started mixing his favorite tracks.
He started his career at the beginning of 2015. Re-Fuzz was born!

His first live performances were at Zollamt in Stuttgart and at Pumpkin festival 2015 in Oberhausen after winning their DJ contest.
After this Re-Fuzz went bigger and bigger in an overwhelming speed.

In September 2016 he released his first Ep on "Terror Machine Records" and in April 2017 he joined the dutch label "Uptempo is the tempo Records". After beeing years and years in the Uptempo scene he decided 2020 to go back to the roots and found his new home on DEQUINOX.

Further to mention his track "Theatralic" was played in the Harmony of Hardcore endshow and was featured on the official Dominator compilation 2017.

Re-Fuzz gives always 100% wherever he climbs on stage and is on a good way to reach everything he ever dreamed about.