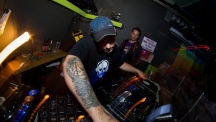 Dj Sycotic, real name (Deekin Ford), has been Djing since 1993, playing Hardcore and Techno with his own unique and creative style that has to be heard to be understood!He has had plenty of positive comments from promoters up and down the country and has played at some big events and all have been a massive success!

His mixing is said by others to be unreal and relentlessly quick, pretty amazing and with overtones of 'sycotic' behaviour by those that have heard or seen him perform which is his style he likes to do because he finds that it brings him and the crowd closer which a DJ needs to do! He likes his sets to be like an explosion, which really makes the crowd go on one on the dance floor!He has have played at Obsessed/Obsession, X-cite, Flyin Time, Whispers, Phonex, Djs, Asyluim, Tall Trees,Pure Underground, Techno Tunnel, Time, Swivels to name but a few!

His music is his passion, his objective is simply giving followers an experience that is something that they will want to live and enjoy time and time again, where they will always know that the experience they are going to be given is something that will always have every single ounce of thought and effort put into providing the most banging Hardcore/Techno experience from start to finish, whether it be at an event, iTunes Podcast, Dj Sycotic will always accomplish in providing the best Hardcore experience possible!The name 'DJ Sycotic' came from how he puts his sets together and how he plays them out in an extreme but meticulously clever way.

He has been Producing for a long time now and has been signed up to Kurrupt, Cheeze Graterz, Deton8 and EFL Records and also back In 2012 he released his solo Album The Virus which is a must to have in your music selection. For any information and bookings you can visit www.djsycotic.com.