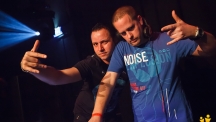 Cemon Victa started in 2002 as a small cooperation between two friends. This grew into an intensive cooperation with all consequences. After a gamble to send their tracks just to 1 label, DNA records, they were well picked up in 2005, first by fellow artists and organizations and later by the fans. After small bookings at various parties throughout the country they were suddenly booked on the bigger parties. Nature one, Masters of hardcore, Megarave, Hellraiser, Hellbound and Raving nightmare are just some names where they performed. In 2008 they decided to take a sort of a break for a few years because of some private reasons.

Now they have again sentence in 2012. They are affiliated with Insane bookings, going to release, remix for Darkcontroller completed for DNA records and again a couple of Nice bookings in the offing, including Ground zero.

Their style has changed over the years, we do what we want into these days, we do what we like. The meaning of this thought is that they produce everything what they like if it's hardcore. Can be darkcore, terror, just mainstream or more industrial. They will produce different styles of hardcore what you also hear back in their mixes.

The future will tell if they can repeat what they have already done in 2006 to 2008. Anyway, it will not lie to their renewed energy and commitment. Beware!