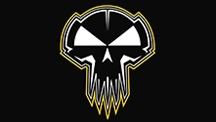 Founded in 1993 Rotterdam Terror Corps can be called one of the hardcore live act pioneers. The act consisting of DJ Distortion, a MC and two fire breathing exotic dancers has been the standard in the European hardcore scene since 1993. DJ Distortion is the main producer of all tracks but also did a lot of cooperations with other artists.

With more than a 2000 live acts and 1000 DJ bookings in the last 25 years people have worldwide experienced the awesome power of RTC. All the big European Raves invited RTC to play like Tomorrowland, Thunderdome, Energy, Defqon, Q-base, Masters of Hardcore, Mysteryland, Hellraiser, Dominator, Ruhr In Love, Megarave, Summer Festival, Nature One, Energy, etc.

Partypeople in Russia, the United States (New York, New Jersey, Chicago, Los Angeles, Mesa AZ, Denver, Pittsburgh, San Francisco). Sweden, Austria, Switzerland, Spain, Italy, Germany, Luxembourg, Belgium, France, Hungary, Slovakia and Poland witnessed the power of the black flag and the white skull. In 2013 RTC celebrated their 20 years anniversary with 3 special parties and a new album called Respect The Core. The album was a Hardtunes number 1 for almost 10 days in a row. In 2015 RTC was the hardest live act ever on Tomorrowland and Vice.com made a documentary about RTC which had great reviews worldwide.

1996 they won two Thunder Awards; Best Live-Act and Best MC. In 1997 RTC was nominated for three Thunder Awards; Best Live-Act, Best MC and Best Track 1997 (The Horror), they won Best Live-Act and Best Track 1997. In 1998 RTC was proud to be nominated in Switzerland by the Line Up Rave Awards (Swiss TMF) for Best Live-Act together with The Prodigy and Der Dritte Raum.

In 2013 RTC released the 'Respect the Core' album, the album dominated the Hardtunes charts for over 2 weeks.

In 2016 RTC played at Qbase for the first time and a new album 'Respect the Core was released in December 2017 during a special RTC party in Germany. This album also rocked the charts. In 2018 RTC celebrates the 25 year anniversary with a huge party at the Peppermill in Holland, where the band did one of their first parties almost 25 years ago.

In 2016 Distortion made an exclusive track for a short animation movie called 'Culturesport (by John Michael Boling)' This movie is a fantasy story anime style about Rotterdam Gabbers in the nineties.

In 2018 RTC released their album "RTC The Legacy"