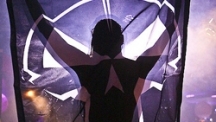 Founded in 1993 Rotterdam Terror Corps can be called one of the hardcore live act pioneers. Dj Distortion, the initiator of the infamous group conceived of a concept more dark and powerful than the prevailing Happy Hardcore sound. From this Rotterdam Terror Corps was born.
With more than a 1250 liveacts and 700 djbookings in the last 20 years more than a million people worldwide have experienced the awesome power of RTC. All the big European Raves invited RTC to play from Hellraiser to Thunderdome and from Energy to Masters of Hardcore. Also Russia, the United States and Poland witnessed the power of the black flag and the white skull.

The act consisting of DJ Distortion, a mc and two fire breathing exotic dancers has been the standard in the European hardcore scene since 1993. In 2013 RTC celebrated their 20 years anniversary with 3 special parties and a new Album called Respect The Core. The album was a Hardtunes number 1 for almost 10 days in a row.

In 2015 RTC was the hardest live act ever on Tomorrowland and Vice.com made a documentary about RTC which had great reviews worldwide. In 2016 RTC played at Qbase for the first time and a new album will be released in December during a special RTC party in Germany on the 10th of december.