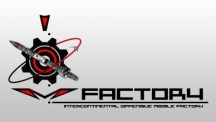 1995-2012 Already over 15 years serving the hard electronic music ...

And it all started with Metal concerts will destroy the ears but who gave me the taste of 6 strings guitar and violent music. Then one day, fed up with the guitar and drums, I needed something stronger, more energetic.
I was young and the invasion of the free party was already well underway with its hordes of barbarians from the north, West and across the Channel and our virgin borders. It was a revelation, the syncopated rhythms of the first raves in the Forest, all mixed with prolonged earing of trance and goa artists such as Hallucinogen and the Dragonfly label .

Yet, Dj'ing was not my thing. It was expensive and I thought it was too late for me to start a record collection. And I've always been a producer !
Then, a round-trip Paris-Fontainebleau later I was the owner of an AKAI MPC 2000. I made my first experience on this machine. What a great instrument !
While I was discovering the joys of scoring, the midi music by myself, I feasted in ever more violent and extreme tones overclocked by my free party weeks end and current hard techno mixtapes ...
I was hitting hard the MPC in search of the ultimate kick ... Already ...

Some pay later, I could taste the joys of Reason on mac with a card and MOTU lives first began to emerge.
This configuration has changed but I never left more.

It was time to take matters in hand. The passivity of the first year was over. Thereafter things followed on fast enough : Berlin, then the transhumance towards the "promised land" , the other country of cheese and Hardcore, the Netherlands ... what fun!
Events such as GROUND ZERO, Ik ben ye bitch niet or MEGARAVE, sharing the prechoir with the biggest producers of this music.

Today I Eforce work in accordance with the beliefs that I had set: Effectiveness of my sound, POWER of my productions, "live" or sequenced, keep the grain and level to the max and as aggressive as possible.

15 years in hard electronic music, 10 years in Hardcore and how many good years still !?

My name is I.O.M. FACTORY and my greatest pleasure will be devouring your mind at each appearance, driving you into the farthest corner of your mind.

I WILL MAKE YOU CRAZY !!!!!