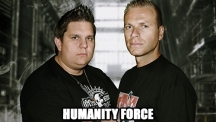 Humanity Force

Humanity Force consists of Erik Groeneveld and Sander van Rooij. These two DJ / producers, who have been played in the harder dance genres for many years, have entered into a partnership with each other since 2010. Paul Elstak discovered these talents and released the tracks on his label Offensive Records. Check out the previews on: www.hardcoreradio.nl

Humanity Force featuring Ruffian - Lost
Humanity Force - I am
Humanity Force - Ghetto

Humanity Force stands for energetic hardcore sets, driven by a high dose of pure passion for this music.

Humanity Force will play at Nightmare in Rotterdam on 3th of December 2011!

Keep Humanity Force in mind!!!