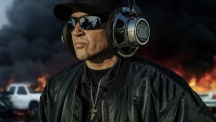 Amsterdam based Danny Firestone, original Hardcore hooligan,
and inventor of the typical Riot-style Hardcore,
started his career as vocalist/guitarist in the early 80's with Punkband 'NV Le Anderen'.
Their tracks appeared from 1982 on a variety of compilation Lp's and 12'' around Europe and the U.S.
The band split up in 1985, after their last gig at the famous CBGB's in New York City.

Hardcore-Punk.

From 1993 he toured the U.S. and other countries several times as leadsinger/guitarist with
'Teenage Warning', best known for the 1997 rip-offs 'Brohymn' (Pennywise),
and 'If Kidz Are United (Sham69), wich he produced with DJ Paul.
Both tracks are considered as Hardcore classics, and appeared in different mixes on many compilations like the 'Thunderdome' series.
Over the years their own recordings were released on Sampler cd's in Germany, Japan, Brazil,
the U.S. and Great Britain only.
After the breakup with Teenage Warning in 1998, he took his old job as roughneck in
offshore drilling, until a tragedy on september 11, 2001 brought him back in the studio again.

Hardcore-Techno.

That same year he started writing for, and became frontman of the 'Offensive Live' project.
First track was 'Deadcops', and soon he found himself performing at almost every major Hardcore event all over Europe, including Hellraiser, Masters Of Hardcore, Sonic, Hardcore For Life,
Space Music Festival Moscow, Nightmare (in- and outdoor), Decibel, Project Hardcore, and many more.
Today his main effort is recording with DJ Leviathan for Cenobite Records,
and this will continue next year.
First release will be a digital package containing 4 experimental Hardcore tracks
with titles like: 'Crosses', HC Heroes, Ice Cold Blood, and Cenobite! (The Anthem).

Since 2010 he's also recording and performing as leadsinger for Hardcore-outfit 'Dutch Wisdom', wich
gives him the opportunity to go back to his musical roots, but must be considered as side project. December 15 2012, he will perform with DJ Leviathan at Thunderdome - The Final Exam,
witch will be at the Amsterdam RAI Convention center.