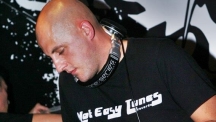 In 1998 Dj bazzu started listening to hardcore music and dancing it at "Number One" disco, and mixing with turntables in his house.
He bought 2 cdj pioneer 1000 and training himself for many years, learning scratch
at state of art.
He played a lot of different music styles, as techno, house, electro, hip hop and rnb, refining his technique mixing.
In 2006 discovered Frenchcore and falt in love with this music then he began to produce frenchcore music and from 2008 he played in several parties and clubs in north Italy.
In 2012 he joined in the N.e.tunes records as resident dj and producer, and played in all biggest Italian events at Florida disco (Thunderdome, Masters of Hardcore in italy, e-mission, Night of Madness...), Number one (Ravestorm).
His first track with kaali has junst been released on Not Easy tunes and more will follow soon!