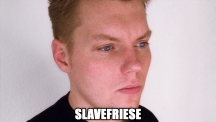 Robert Friese aka Slavefriese is a liveact from fermany who is active in the Hardcore-scene since the early 90ies. He played in such legendary clubs like Bunker / Tresor in Berlin, Tunnel / Hamburg aswell as on big events like Megarave, Resident-E, Raving Nightmare, Alpha-Rave, Hellraiser and more...

Over the years he released material on various labelS like Acardipane Resident-E Records, Megarave, DNA, Fifth Era, Third Movement, Leach and is responsible for tracks like Dorm of the Future, Five Minutes after the Pill, As Loud As Possible and many more...

The Slavefriese Liveact is also available teamed up with MC Mirender - bringing a 30min - 60min liveplay with stunning dark, synthetic, doomy, fresh, depressive, cold, melodic, old, monotone, harsh, meditative, annoying and loud sound !!