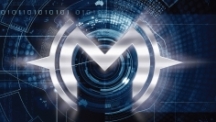 With a heart for early hardcore and furiously fast fingers, Alex de Ras has added a new chapter to the story of MD&A: a 100% live performance unlike anything else in the hardcore world.
Going from attending raves in the early '90s to production and DJ'ing, MD&A was founded by Alex and his friends Marco and Danny in 1996. The group soon topped the hardcore charts with 'Braindead', making it all the way to Dutch national television with the accompanying video clip. MD&A remained successful for a number of years before going on a very long hiatus – until 2012, that is.

Highly impressed by fingerdrumming wizard araabMUZIK as well as early rave legend Marc Acardipane, Alex combined both concepts and decided to start experimenting with live hardcore drumming. Soon, things went from studio to stage and in 2012, MD&A was reborn. Alex rebooted the name to stand for a performance of MD&A's own hits from the past, with samples and effects triggered on the spot. Alex was treated to a warm welcome by the loyal soldiers of the hardcore scene and decided to take his next performances a step further.
And here is what the next step looks like: https://youtu.be/DEmchUmGH8k

Through hours of diligent practice, Alex taught himself how to fingerdrum 100% live. Now, at the end of every MD&A performance, the listener can count on a 15 to 20-minute medley of completely live early hardcore. There are no backing tracks playing and everything you hear is triggered by the man himself. MD&A takes the early hardcore classics everyone knows and loves, deconstructs them into samples, and reconstructs them live on stage – from kickdrum to vocal samples. And he doesn't just take his own tracks, but everyone else's classics, too. Mixing and mashing everything up, Alex brings what he likes to call a 'tribute to early hardcore'. Sometimes you'll hear 3 or 4 favourites playing at the same time, sometimes you'll hear Alex drumming freestyle with samples from well-known tracks – but whatever he does, you'll always be treated to high-energy, high-BPM early sounds.

Since the video of his performance at Defqon.1 2015 went viral, Alex has taken on new challenges. Now working with a drums teacher, he's always willing to learn and improve, making each liveset arrangement more complex than the last one. Furthermore, Alex has teamed up with MC Axys, a mic controller with a powerful voice who gets the crowd going without fail. MD&A represents something unique within the hardcore world: an actual live performance, a one-man band playing the hardest-hitting classics right there on the stage. Every one of his gigs is a one-off event, and you can be sure every one will be better than the last. If you have a heart for hardcore classics, you'll surely love MD&A!